HCG AVAILABILITY NOTICE!
Patients must place their HCG order no later than 2 PM EST on Wednesday, November 3rd. The Pharmacy has a limited quantity of HCG! Orders will be processed as received on a first come - first serve basis. Our office hours have been extended daily until 9 PM EST through November 3rd.
We will do our best to process all HCG orders received. We cannot guarantee those orders received close to the November 3rd cutoff date or orders beyond the Pharmacy's ability to supply product.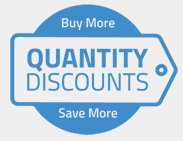 We are offering significant Quantity Discounts [up to 25% off] on HCG Tablets and Injections.
ALL NEW PATIENT ORDERS must be processed on the TeleHCG.com or NewBeginningsMedical.com websites. REFILL ORDERS can be placed through Customer Service: 877-424-9994, or directly on the websites.
Combined with 500 calories daily, HCG Injections can assist individuals in losing an average of upto 1 pound of fat per day
All HCG is from U.S. Licenced Pharmacy
Medical Doctor Tele-Consultation (Included)
Includes Free Shipping
Note: HCG remains in the body for three additional days after taking the last injection or tablet. For example: on a 43 day diet, there are 40 injections or tables plus the three days that the HCG remains in the body.